Curtain wall system product system
We are committed to providing customers with a professional and personalized high-quality service system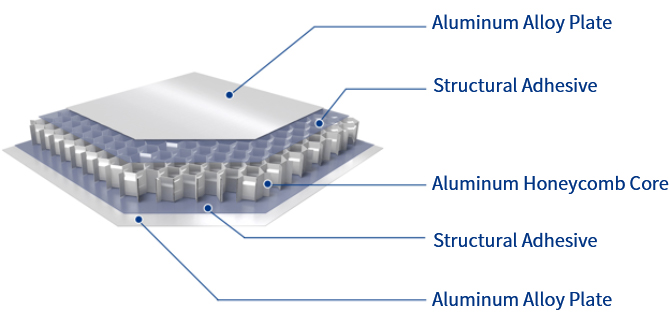 Aluminum honeycomb panel is a new breakthrough in the transformation of aerospace technology to civilian use, and is currently the world's best lightweight composite environmental protection material.
Because of its irreplaceable advantages, it is widely used in various fields. Especially in the field of construction, it is known as the best architectural curtain wall technology product in the 21st century. The surface of the aluminum honeycomb panel is made of aluminum alloy sheet treated by fluorocarbon roll coating, and the middle is the aluminum honeycomb that meets foreign aviation standards. CEG company introduced the special composite process for the production of sandwich panels from abroad-cold pressing and hot pressing technology, professional The production of this type of product makes the product has more significant and excellent characteristics, and is widely used in building curtain walls and indoor and outdoor decoration. Moreover, because CEG has a professional and comprehensive production process guarantee, it can be completely based on customer requirements and actual conditions. The situation uses different composite processes to produce products.
Conventional thickness: 10mm, 12mm, 15mm, 20mm, 25mm.
The maximum size is 2300*10000mm, without any reinforcing ribs
Weighted sound insulation 25dB
The minimum can reach 300mm, and it is formed by one-time processing, without secondary processing, to ensure that the strength of the plate is not damaged.
| | | | | | |
| --- | --- | --- | --- | --- | --- |
| Maximum area | thickness deviation | Size deviation | Bending strength | Plane shear strength | Salt spray |
| 2000mm×6000mm | ±0.25mm | ±2.0mm | ≥21.6Mpa | >0.52Mpa | 48 hours, no pinholes and cracks, no bubbles |

Address: No. 300, Hehai West Road, Xinbei District, Changzhou City, Jiangsu Province